Find out which medical alert system is best for you…
1)
Who are you shopping for?
What Are Medical Alert Systems?
Medical alert systems, also known as personal emergency response systems (PERS) or mobile personal emergency response systems (MPERS), are life-saving devices for any older adult who's worried about illness, falls, or other emergencies.
A senior who is equipped with a medical alert device simply needs to press a button, and they are immediately connected with trained monitoring personnel who can dispatch help.
Medical alert systems help people remain safe and independent by providing a convenient emergency response button in the form of a pendant, smartwatch, or cellular phone.
Does Medicare Pay for Medical Alert Systems?
Typically medical alert systems (or PERS) are not covered under Medicare Parts A and B.  Unfortunately they are not considered a "medical necessity" by Medicare. This is something we disagree with, as do many leaders in the medical alert industry.
Some Medicare Advantage Plans (Medicare Part C) cover medical alerts, but this will vary with the insurance you're carrying and the state in which you live. If you have a Medicare Advantage plan, check with your provider to see if they pay for medical alert systems.
Most people are paying cash for medical alerts (out of pocket). However, some healthcare reimbursement accounts (HSA's) have been known to cover medical alerts.  If you are still working, and your employer offers this benefit, you should budget for around $29-$59 per month (depending on the kind of medical alert that best suits you).
Medical alert devices are well worth the monthly fee for the peace of mind they bring. But they are still a monthly expense, and for seniors who are on a tight budget, every purchase needs to be carefully considered.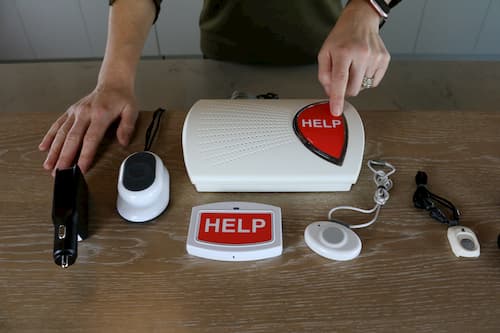 Surprising things NOT covered by Medicare
While we are on the topic of Medicare not covering medical alert systems, there are a few other items many people assume are covered by Medicare, but are not. A sampling of services generally not covered by Medicare includes the following:
Long-term care
Hearing Aids
Acupuncture
Routine foot care
Dentures and most dental care
Walk-in tubs (generally not covered)
Long-term care is the big one here- many people assume Medicare will cover the cost of long-term care (also known as custodial care or nursing home care). But this is simply not true.
How Much Do Medical Alert Systems Cost?
Medical alert systems will vary in monthly cost based on the type of system you are looking for. There are no upfront equipment fees for most medical alert systems. The monthly cost charged by medical alert companies is a monitoring fee, similar to the monthly fee you would pay for a home security system.
While there are outliers on all sides, our editors took a look at the average monthly cost for the top 10 medical alert systems. Here is a breakdown:
In-Home Traditional: $26.34
In-Home Cellular: $30.74
Mobile + GPS: $37.66
Mobile + Fall Detection: $43.46
Medical Alert Smartwatch: $34.95
Fall Detection Add-On: $9.00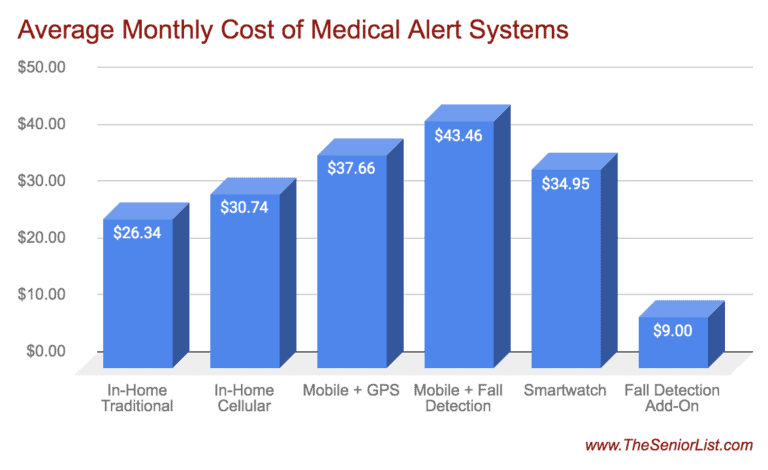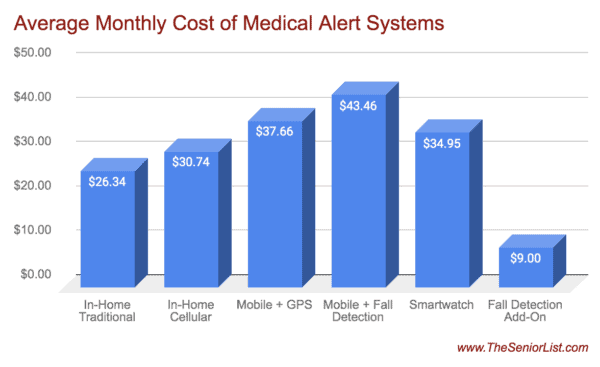 Who Needs A Medical Alert System?
Most seniors will benefit from a medical alert system. From traditional in-home landline alert systems to the most modern mobile + GPS roaming alerts, there's a medical alert system for everyone. A medical alert button helps seniors stay safe whether they spend most of their time at home, or if they're out and about staying active.
Getting great value for money is important, and so the cost of a medical alert system is a key consideration when purchasing one.
In-Home and Cellular Medical Alerts
Medical alert devices come in all shapes and sizes and work with both in-home telephone lines and mobile (cellular) networks. Today we're seeing fewer industry advances in traditional in-home systems that require a landline, and more of a focus on improving mobile/cellular medical alerts (which provide greater range inside and outside the home).
Do Any Other Insurance Plans Cover Medical Alert Systems?
Seniors who are on certain Medicare Advantage plans (also known as Medicare part C) might be able to get part of their medical alert monthly costs covered. Medicare Advantage private insurance is offered by companies when you sign up for Medicare and covers expenses Medicare does not cover.
There are also some circumstances where Medicaid will cover the cost of a medical alert system. This includes some personal care attendant programs, consumer-directed services, and home and community-based services. Each individual state determines what Medicaid will cover for eligible recipients.
Some long-term care insurance programs also cover the cost of a medical alert system.
All these options depend on your specific policy, and also vary from state to state. We recommend seniors or their caregivers look into these options to see if their monthly medical alert costs will be covered.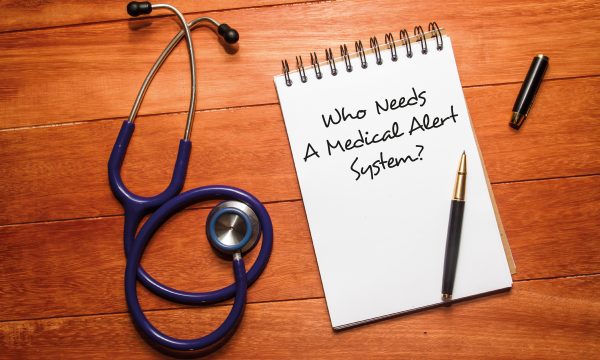 Tips For Saving Money On A Medical Alert System
Another way to cut the cost of a medical alert system is to employ a little savvy shopping. Here are some easy tips to save money on a medical alert.
Be clear about what you need. Medical alerts vary widely in the features they offer. Some alert systems are simply a base station with a button or pendant, while others are mobile + GPS units, and others offer more extensive in-home coverage such as additional sensors and wall buttons. Some offer caregiver tracking and neat features such as daily medication reminders and even live chat features with physicians and nurses. Choose a medical alert that's perfectly suited to you, rather than paying for unnecessary additional features you will not use.
Shop around! Medical alert prices vary a bit, even for the ones that have comparable features. We've personally reviewed the best medical alert systems, and have plenty of tips for making sure you pick a quality system.
Look for special offers. Many medical alert providers will throw in a free month or two if you pay for a year of coverage upfront, while others offer discounts on the monthly price for paying in advance. Be careful of contracts though. Do not let any medical alert company lock you into a long term contract.
As we advise anyone looking for senior discounts, make sure you ask! Some medical alert providers offer special deals and discounts for AARP and other senior membership organizations.
It's unfortunate that Medicare doesn't cover medical alerts (we think they should). But there are other ways to cover, or at least reduce, the cost. Always ask around and find out what's covered in your specific insurance policies – if never hurts to ask!
Final Verdict: Medicare does not pay for Medical Alert Systems (yet)
Our readers often ask us whether Medicare covers medical alert systems. Unfortunately, Medicare does not cover medical alert systems at this time. We understand this can be frustrating to hear. After all, for many seniors, a medical alert system is vital to maintaining independence and quality of life.
Sometimes, having a medical alert system can be the deciding factor to whether or not a senior can remain at home, rather than having to transfer to an assisted living facility or another form of senior housing.
As Medicare doesn't cover medical alert systems, it's worth looking at other ways to get coverage or save money on purchasing a medical alert device.